. . . The world no longer needs to build nuclear power plants to avoid climate change and certainly not to save money. If you have any doubt about that fact please read the World Nuclear Industry Status Report 2017.
Foreword by S. David Freeman
The report makes clear, in telling detail,
that the debate is over
---
Climate Change and the Growing Risk of Nuclear War

When: Saturday, September 23, 2017.
Where: Hadley Farms Meeting House, 41 Russell St, Hadley, MA.
What: A Symposium with speakers:
Bill McKibben—350.org; Nitin Damle—American College of Physicians; Michael Klare—Peace and World Security Studies Program, Five Colleges; Jennifer Leaning—Harvard T.H. Chan School of Public Health; Zia Mian--Program on Science and Global Security, Princeton University; Ira Helfand—Physicians for Social Responsibility; Marty Nathan—Climate Action; John Loretz—International Physicians for the Prevention of Nuclear War.

More info
---
The Root 4th Birthday Party!

When:
Saturday, September 23, 2017 from 3:00 PM - 10:00 PM.
Where:
28 Williams Street, First Floor, Brattleboro, VT
What:
The Root Social Justice Center's 4th Birthday Party!
3:00 PM: Meet at The Root for art & sign making
4:00 PM: Depart for a Racial Justice Parade through town
5:00 PM onward: Potluck dinner! Short programming! Dancing! Party!
Join us in celebrating a successful year focusing on People of Color-led Racial Justice organizing. Bring your own puppets, signs & banners or join us to create new art for the Parade.
Come out to Learn, Donate & Support The Root moving forward.
More info
---
NDCAP Meeting

When:
Thursday, September 28, 2017 from 6:00 PM - 9:00 PM.
Where:
Brattleboro Area Middle School Multi-Purpose Room, 109 Sunny Acres Road, Brattleboro, VT.
What:
Meeting of the Vermont Nuclear Decommissioning Citizens Advisory Panel. NorthStar's CEO Scott State will outline the company's proposed site restoration standards. We will also receive a presentation on the rubblization process (a technique that NorthStar plans to use at the site).
More info
Agenda
---
Listening to Native Voices
When:
Saturday, October 7, 2017 from 10:00 AM - 4:00 PM.
Where:
Agape Community, 2062 Greenwich Road, Hardwick, MA.
What:
Agape Community presents: "Listening to Native Voices—Standing Rock is Everywhere" and welcomes Paula Horne Mullen and Chief Arvol Looking Horse of Standing Rock, North Dakota.
CAN Board member Suzanne Carlson will be there and invites people to carpool from the Greenfield area. Contact:
Suzannec@crocker.com
or 413-325-8193.
More info
---
Fall Workshop Series
When:
Three Thursdays, October 19, November 9, and November 30, 2017 from 9:00 AM - 11:30 AM.
Where:
Open Bookkeeping
in Brattleboro, VT
What:
Join Alex Fischer from Open Bookkeeping for a 3-Part Workshop Series on Financial Literacy and Reporting, a fun and interactive introductory experience focusing on improving basic financial literacy, building better budgets and creating engaging financial reports. Each workshop is 2 1/2 hrs filled with games, templates, and brainstorming on how to take what you learned back to your organization.
More info and Registration
---
Contact Your Senator!

On September 11, 2017, 57 National, regional, and local groups from all across the US have signed the coalition letter, urging all 100 U.S. Senators to vote against confirming Trump's nominees to the U.S. Nuclear Regulatory Commission, Annie Caputo and David Wright.
Contact your senator to follow up about this matter, to bolster our case and chances.
---
Don't Let #DirtyEnergy Trump the Climate
Trump refuses to spend any money to support climate action, but he can't wait to give mountains of our hard-earned cash to dirty energy executives for more global warming and nuclear waste. We need to stop him, and move toward 100% renewable energy now.

Help us stop the Trump administration's attack on renewable energy!

Hurricane Harvey's path narrowly missed a direct hit on the South Texas Project nuclear reactors, which was nearly flooded by the Colorado River.

Sign the petition
---
Say NO to the "Nuclear Waste America" Bill!
Nuclear power produces highly radioactive nuclear waste with no place to go because, guess what—there is no safe place to store it! Moving highly radioactive nuclear waste is INCREDIBLY DANGEROUS!
Say NO!

Or contact your U.S. Representative directly, look up their phone number here.
In June, a group letter went to Shimkus and his Co-Chair OPPOSING THE BILL, signed by 49 organizations. The letter is a great source of talking points. You can also send the letter itself if you email your US Representative.
Does your Rep have nuclear waste transport routes in his/her congressional district? Find out here.
---
Stop the Nuclear Tax Bailout!
Last month, we told you about a bailout the nuclear industry is trying to push through Congress. Despite a multi-billion-dollar price tag, they are still at it. And if they can't win a vote on the bill (HR 1551), they may resort to sneaky tricks, like adding the tax breaks to the budget bill or another energy bill. If we can stop them, it could stop new reactors and end the so-called "Nuclear Renaissance" (what we call a "Relapse"), once and for all.
Contact your senators now: "Stop the Nuclear Tax Bailout!"

Say NO!
---
Couldn't join the nuclear waste tour in New England, but want to find out about
nuclear waste?
Watch this video with the presenters in Brattleboro, VT on May 6, 2017— by BCTV.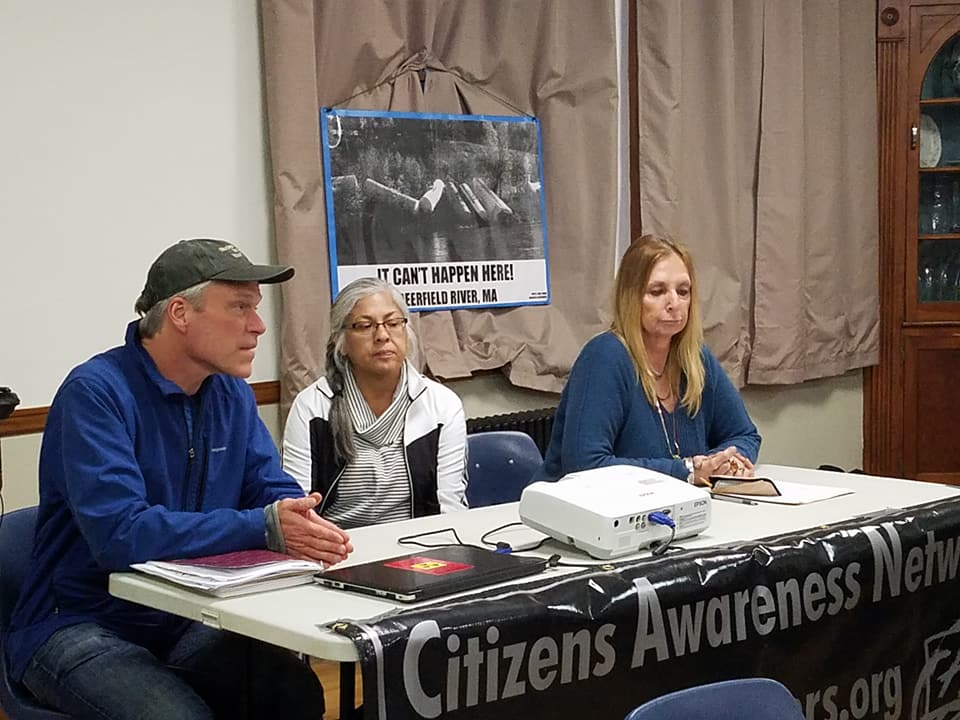 ---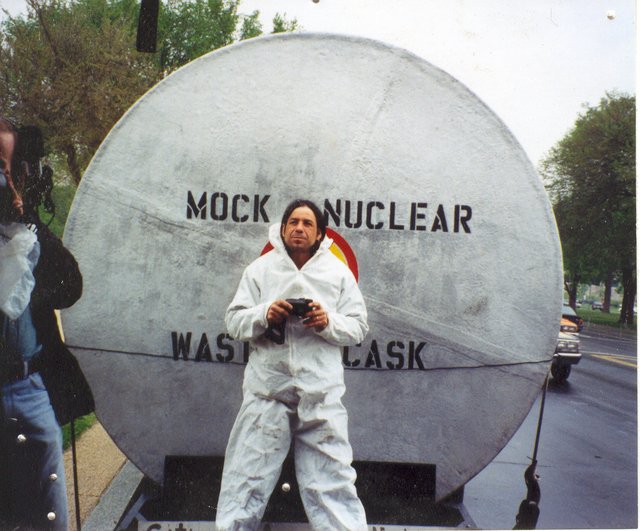 Watch this video from Deb Katz about HLNW and Yucca Mountain
---
Volunteer(s) Wanted CAN is looking for volunteers to rehab our mock high-level waste cask. No experience with radiation necessary!