CAN's Environmental Justice and Nuclear Waste Tour in the news
Plymouth—September 22, 2018
First Parish Unitarian Universalist Church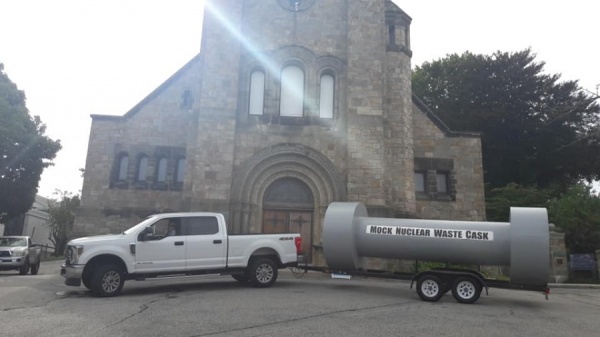 Boston—September 21, 2018
Environmental group raises concerns over transport of nuclear waste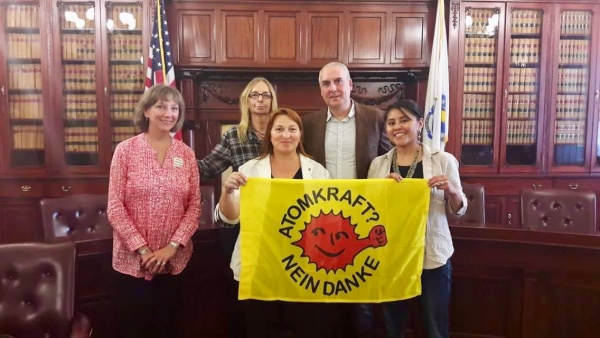 At the MA State House after our press conference. "Don't Waste America! Stop nuclear transports without concept!"—Kerstin Rudek
From left to right: Diane Turco (Cape Downwinders), Deb Katz, Kerstin Rudek, Tim Judson, Leona Morgan
Greenfield—September 20, 2018
Activists rally against nuclear waste transport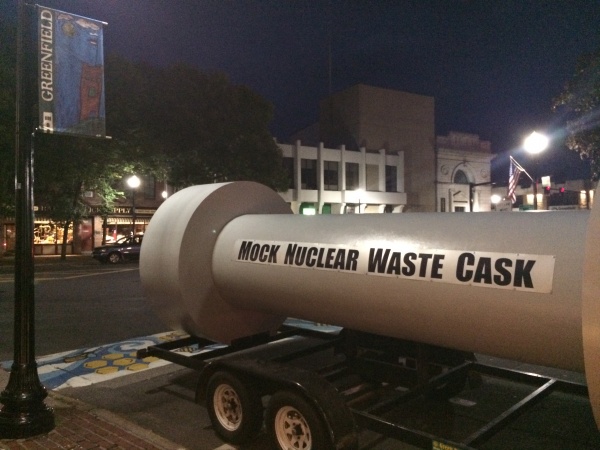 Montpelier and Brattleboro—September 18 & 19, 2018
Anti-nuclear waste rally in Montpelier—WCAX3
Activists oppose potential transport of Vermont Yankee nuclear waste to Texas
Anti-Nuke Groups Concerned About Plans For Vermont Yankee's Radioactive Waste
Activists protest plan to transport nuclear waste to Texas
We made the daily 7!—Seven Days Vermont
Video by ORCA Media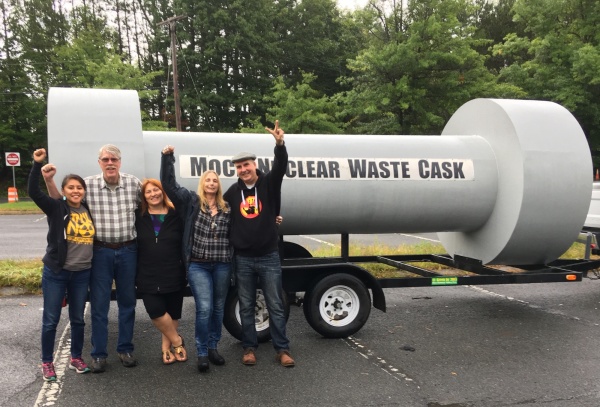 From Left to Right: Leona Morgan, Chris Williams, Kerstin Rudek, Deb Katz, Tim Judson

CAN's Environmental Justice and Nuclear Waste Tour "The Road from New England to Texas and New Mexico" has Commenced!
September 18, 2018
Montpelier—Our High Level Nuclear Waste Tour officially started today leaving Rowe, MA en route to Montpelier, VT with the Mock Nuclear Waste Cask in tow. The tour includes several stops in Massachusetts and Vermont with speakers from local communities and guests from Germany and New Mexico. Kerstin Rudek will share insights from their nuclear waste dump site Gorleben and Leona Morgan will speak about the resistance against the proposed interim storage sites in the Southwest and national transport.
We started the day with a radio interview on The Dave Gram Show on WDEV: https://wdevradio.com/news-review-and-radioactive-waste/
Wave to us if you see us on the road!
---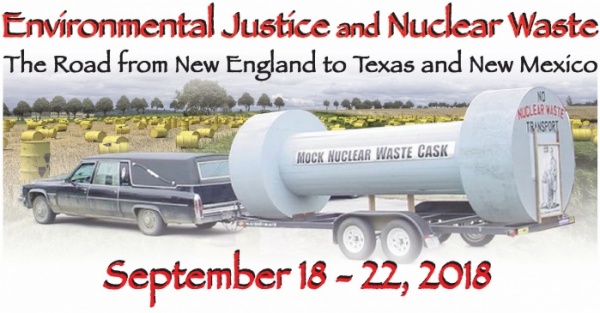 ---
Agreement reached on transfer of defunct Vermont Yankee plant
March 7, 2018
VERNON, Vt. — State and local parties have finalized an agreement with companies to facilitate the transfer of shuttered Vermont Yankee nuclear power plant to new ownership, which intends to complete decommission and restoration of the site by 2030.
In a Memorandum on Understanding filed on Friday, state and local parties approved the transfer of Vermont Yankee from Entergy to NorthStar Group Services, a New York company that specializes in power plant dismantling and restoration. Endorsing the agreement were the Vermont Department of Public Service; Agency of Natural Resources; Attorney General's Office; The New England Coalition of Nuclear Pollution; The Town of Vernon; Windham Regional Commission; the Elnu Abernaki Tribe; and the Abernaki Nation of Missisquoi.